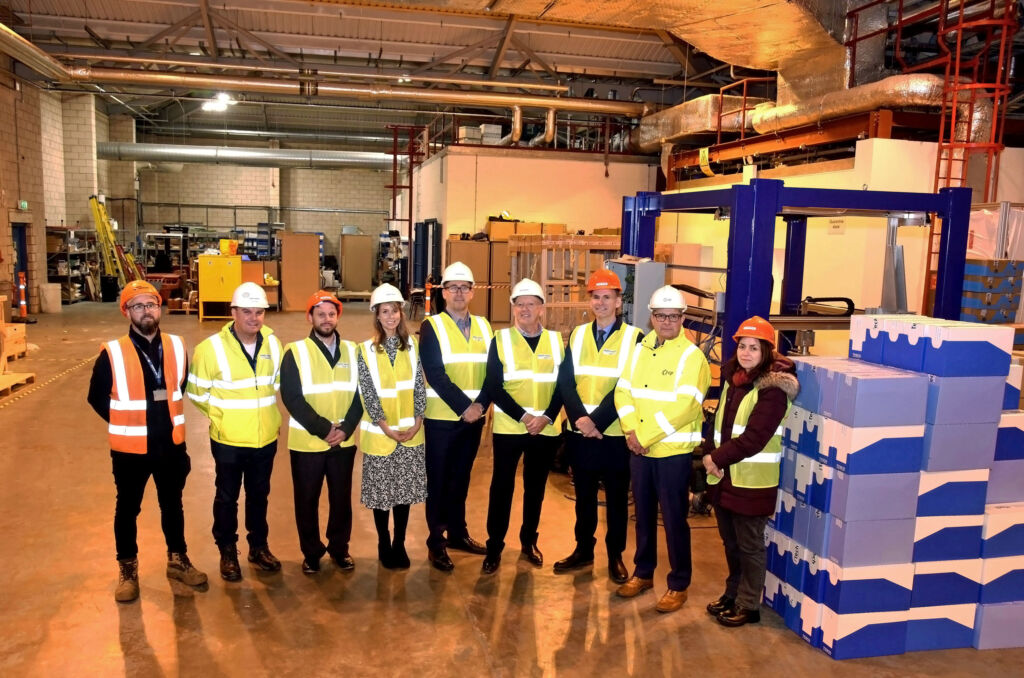 The development of Ayrshire's new Digital Process Manufacturing Centre (DPMC), part of the National Manufacturing Institute Scotland (NMIS), hit a major milestone this week with its half a million-pound refurbishment kicking off.
Last month Paisley headquartered Clark Contracts was awarded the refurbishment contract for the centre, which is a partnership between the University of Strathclyde as the operator of NMIS, North Ayrshire Council and CPI.
Located at the Booth Welsh manufacturing space at i3 in Irvine, the DPMC aims to accelerate the adoption of digital technology for process industry manufacturers to help cut energy costs and achieve net zero by becoming more aware, predictive, and productive.
Opening next year, the DPMC will also act as a beacon for ambitious global businesses as the region undergoes transformation as part of the Ayrshire Growth Deal.
Speaking about the latest developments, Stuart Laidlaw, Head of Operations at the National Manufacturing Institute Scotland, said: "Now is a difficult time for manufacturers as they struggle with rising energy costs and supply chain shortages. As one of the country's fastest-growing research and development organisations, we're committed to helping industry embrace technology and innovation to overcome these challenges and enhance their performance to compete globally.
"The Digital Process Manufacturing Centre will bring significant benefits to UK process manufacturing businesses and the local community by attracting inward investment to Ayrshire through our world-leading research and development (R&D) expertise, training opportunities, cutting-edge digital demonstrators and supportive community of specialist technology centres, members and partners."
The new centre was announced in June and marked the first collaboration between NMIS and CPI, which are both part of the High Value Manufacturing (HVM) Catapult. Its refurbishment includes a lecture theatre and a large collaboration and networking space. It will be digitally connected to the new NMIS HQ in Renfrewshire's Advanced Manufacturing Innovation District Scotland (AMIDS), also opening next year, which will include a Digital Factory, Manufacturing Skills Academy and open-access Collaboration Hub.
Councillor Tony Gurney, Cabinet Member for Economy and Climate Change, said: "This is really positive news and another exciting step forward in the development of the Digital Processing Manufacturing Centre. It will be a fantastic asset and we look forward to working closely NMIS and CPI to bring technical expertise and academic research and innovation right into the heart of North Ayrshire. It will help businesses and our workforce understand new digital ways of working and ensure they have the skills and expertise to develop and grow even further."
Frank Millar, CEO at CPI, said: "Digitisation is essential for creating a sustainable and productive future for process industry manufacturers. Our partnership with NMIS reflects the broader strategy of the High Value Manufacturing Catapult to enable industrial transformations, so it is great to hear that the Digital Process Manufacturing Centre is one step closer to completion in North Ayrshire. We're looking forward to working with our partners through the new Centre to boost the adoption of advanced technologies and deliver manufacturing solutions that build a better future for both business and local people."
Gerry Cummins, Director at Clark Contracts, added, "Having worked with the University of Strathclyde for over 20 years, it is great to be continuing our relationship to deliver this innovative technology centre. We are also looking forward to working with North Ayrshire Council again to support the manufacturing sector across the country."
Gillian Docherty, Chief Commercial Officer at the University of Strathclyde, said: "This is an exciting step on the journey towards the creation of a facility that will further bolster Scotland's manufacturing innovation ecosystem and the development of industry 4.0 – where our internationally leading research and digitisation capabilities will provide a major boost to productivity and competitive advantage."
Martin Welsh, Managing Director at Booth Welsh, said: "The DPMC, located at our facility in Ayrshire, aligns with our purpose of 'collaborating to engineer a better future'. Working closely with all partners, we look forward to bringing the vision for this centre to life and allowing businesses from both within Ayrshire and nationally, practical, hands-on access to the latest technology to understand how digitalisation can help accelerate both their business and sustainability goals; an opportunity much needed in today's fast paced and disruptive world."